Introduction by Natalia Lehaf
When I first saw Jennifer's art, I was immediately captivated. I haven't seen an artist evoke raw human emotions with tiny objects – things – like this ever before. Her work is endlessly beautiful and unique, and her ability to create new worlds in her miniature diorama photography is eerily inviting. The fragments of Jennifer's work are composed with tactful and resourceful planning, as she prioritizes the time and thought going into her work from the very conception. Once she has an idea, she begins to hand-make accessories or meticulously select the exact item to complete her vision. These concepts laid out on a 1:12 scale speak the stories of her thoughts and experiences. Jennifer is a true storyteller, mirroring the intimate details of her life onto the figures in her projects. It takes courage to reflect, confront, and defeat one's secrets and fears; it takes heart to turn that process into a calculated formula for artistry.
The following has been edited and condensed from an interview with Jennifer.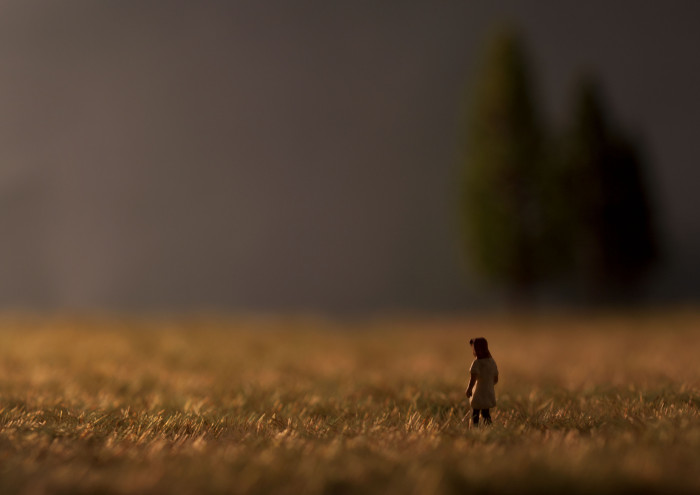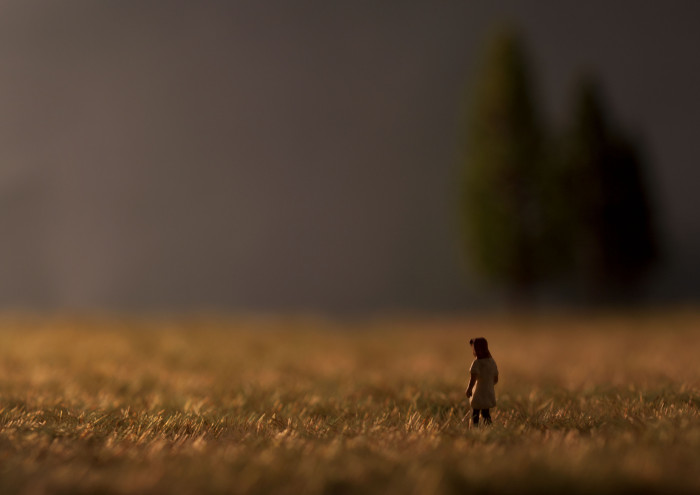 I put a lot of my anxieties and longings and nostalgia and darker moods into my work. I fixate on things; if something sets me off it'll be in the back of my head for a long time.
You see her fear and you always want to know what's going on.
I grew up in a traditional family and while I never felt any pressure, there was an expectation to grow up, get a job, get married, and have kids.
I decided not to have kids because, aside from never feeling like I was meant to be a mother, I always had this fear of giving birth and having a child in my life. I wanted to use this doll ­– and the way she always looks scared – as an extension of my decision to not have a baby. You see her fear and want to know what's going on. I put her in traditional baby environments, but always in an enclosure to portray feeling trapped.
This is a doll I got from the Dollar Store when I was little. It is about an inch-and-a-half tall. All I remember is finding her and putting a dress on her. I don't remember ever consciously deciding to keep her. I've been really intrigued by her because the way she is painted makes her look creepy. I wanted to keep it simple but also play with the color pink to represent the [societal] tradition of always assigning colors to gender, but also to contrast the fear with a lighter color.
I wanted him to be completely emotionless, expressionless; you can ascribe whatever you want to this form.
Sometimes I feel like I'm stuck in a routine and I'm not always content with that. Not to say that this guy always represents me, but I wanted to represent the idea of being stuck and going through the motions. He's about an inch-and-a-half tall and made of polymer clay and wire. I wanted him to be completely emotionless, expressionless; you can ascribe whatever you want to this form, but at the same time, he's completely lost everything about himself. You watch him in a 9 to 5 setting. People spend most of their time at work and then come home and have to decide, "Do I have time to go out, or should I just watch TV, eat, and go to bed?" I wanted to keep it to those very specific tasks.
The longest part in anything I do is the beginning; I think about an idea for forever. I plan out every tiny little detail before I start doing anything. I made the figure in one day and he sat there for a few weeks while I gathered the supplies for his environments. After I had everything I needed, I did one thing at a time. The entire series from concept to finish took about a month or two.
Heaven and Hell
These images were presented as a series, but I did one image at a time over an extended period of time. It's something I keep coming back to. I grew up in a very conservative Christian family – and I didn't realize until recently, but a lot of my struggle with that is never feeling like I could fit into it very well. I never felt like I was ever being a Christian because I didn't understand how to be.
Lately, I've been trying to figure out who I am and what I think about certain things, and it's made me think about the effect my past and the household I grew up in have on me. These feelings have come to the surface a lot, and are things I've wanted to explore more.
I have always had this deep fear of Hell – and it's something that I really needed to sit down and reconcile that I was not going to be afraid of anymore. Even when I decided I wasn't a Christian anymore, I thought, "Oh, no – this is definitely making me go to Hell." My process in making this was also my process in deciding not to be afraid of Hell. So, this is a guy approaching an altar full of flames with a demon eating a person at the center, and blurred on the right side is a guy falling off a cliff.
I wanted to keep the tones fire-oriented and warm for hell ­– the red, yellow, orange – with a black background. I was partly inspired by two medieval courses in college; one was called "The Art of the Apocalypse." So the way I depicted hell is similar to the way it is depicted in medieval art.
You can see the church as a light in this darkness, or you can see it as "there's something wrong here – something dark in this supposed light."
I wanted to pose this church as a mysterious place. Why is it there? Why is it at the bottom of a hill? And then light it at night, spotlighted, so you notice the church but then you have that deep, dark light coming from the entrance. You can see the church as a light in this darkness - when I showed it to my mom, that's what she automatically saw it as – or you can view it as "there's something wrong here – something dark in this supposed light."
I was shopping for another series when I came across this statue with nothing drawn on it. Since my time growing up, I've really been intrigued by religious typography. So I wanted to pose this one like an old, religious painting. I painted the figure and used different colors to represent the idea of Mary:
White for purity
Green for fertility
Blue for faith/Heaven
Jesus has the white for purity, and Mary has some of the white on her but I also wanted to show all of the other features with the other colors.
Melancholy
The doll featured was the inspiration for this whole series coming together. I used a doll with very defined feet because I knew I wanted to focus on her feet and I wanted there to be toes. Originally, I was going to call this series "soft focus," but I decided to go with the feel of everything, which is melancholy. One of my main goals with this was for each image to represent an emotion, and I liked the idea of giving dolls – little figures – that voice for people to relate to them. I project myself in her to an extent – not things I am feeling now, but things that I've felt at some point.
I didn't keep it all in focus because I wanted it to be a motion of everything being swept away, in a dreamlike state. She's finally found her peace and she's reveling in it.
I've been thinking about the word "dry" for a long time. It's probably more of a Midwestern thing, but this image shows a time when it's dry and hot, and even though it hasn't rained in a while, you're still sitting on your porch drinking tea or lemonade. I wanted to create an image that embodies the feeling of waiting. I focused on her feet more so you can see the detail of the porch and the expanse before her. You see that she is just sitting there waiting for this change.
The twigs are the focus of this image because they are a reflection of what's going on inside of her. It looks like a scarf on her, in a suffocating way.
The Chair-O-Plane illustrates my favorite thing to feel – the wind. There is a type of joy when everything is fading away and you are not focused on anything else but the feeling of the wind. I really romanticize this feeling in my mind. I had an idea of this icon and everything being calm for a moment; it's lit brightly to give a dreamlike reflection.
Jennifer Nichole Wells is an artist out of Jacksonville, FL. She creates small-scale tableaus to be transformed through her camera lens. Her images serve as explorations of loneliness, depression, anxiety, nostalgia, hopelessness, and hope. You can find more of her work on her website, Twitter, and Instagram.